Vértices Geodésicos de Estarreja
Marcos Geodésicos de 1.ª, 2.ª e 3.ª ordem e vértices de adensamento da rede geodésica de Estarreja.
Não é adequado para cadastro.
Simple
Alternate title

PT10K_01_VGEO
Date (

Creation

)

2006-01-01
Edition
Edition date

2006-01-02
Identifier

PT_BV_VGEO10K_ESTARREJA
Name
Purpose

Utilização nos intrumentos de gestão territorial.
Credit

Comunidade Intermunicipal da Região de Aveiro - Baixo Vouga
Credit

Direção-Geral do Território
Credit

ESTEREOFOTO
Credit

Município de Estarreja
Maintenance and update frequency

Conforme Necessário

As needed
GEMET - INSPIRE themes, version 1.0
Keywords
Use limitation

Com restrições
Access constraints

otherRestrictions

Other restrictions
Use constraints

copyright

Copyright
Other constraints

Condições de acesso e utilização dos dados sob consulta
Spatial representation type

vector

Vector
Denominator

10000
Metadata language

por

Portuguese
Topic category
Description

Cobre o concelho de Estarreja.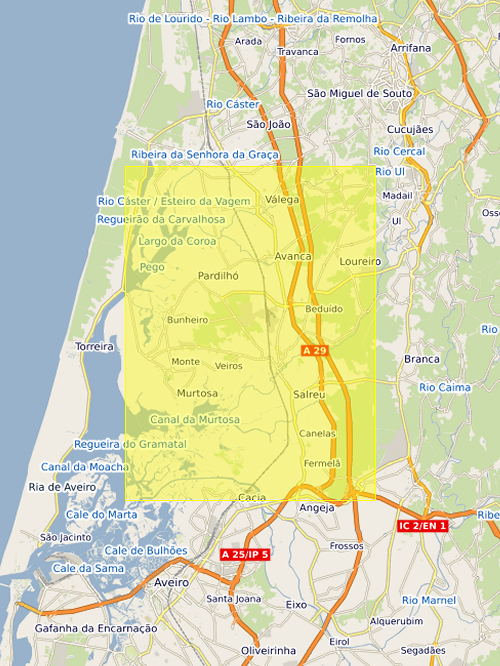 Extent type code

true
Geographic identifier

Local
Reference system identifier

EPSG / 27493
Distribution format

Shapefile ( )

Specification
Hierarchy level

dataset

Dataset
Statement

Realizou-se a linkagem no ficheiro dgn dos vértices geodésicos. Em ArcGis converteram-se os dados para shp e foi feito um 'clip' com o polígono de limite do concelho.
Denominator

1
gmd:MD_Metadata
File identifier

82cbf3d9b11147c1af0251906795c2ab  

XML
Metadata language

por

Portuguese
Hierarchy level

Conjunto de Dados Geográficos

Dataset
Date stamp

2019-05-16
Metadata standard name

ISO 19115 Sistema de Metadados dos Açores
Provided by

82cbf3d9b11147c1af0251906795c2ab
  Access to the portal
Read here the full details and access to the data.
Associated resources
Not available